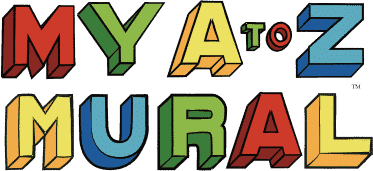 My A To Z Mural is a super-sized art activity page.
Instead of affixing it directly on a wall or a ceiling, we use the floor. Children all ages and sizes can easily engage and learn.
My A To Z Mural is a new and unique educational tool.
Using My A To Z Mural children are interactively learning vocabulary, and being introduced to The Arts.
My A To Z Mural is an enriching design element for any actual environment on site.
Studies have shown we are able to decorate our space to maximize learning or healing.
Dr. Vilma Gabbay who serves as Chief of the Pediatric Mood and Anxiety Disorders Program and Associate Professor of Psychiatry and Neuroscience at Mt. Sinai Hospital recommends all of My A To Z Children's Educational Products.
The nation's largest coloring activity is collaborative.
My A To Z Mural allows children of all ages to paint, color, and create their own Art. Crayons, colored pencils, acrylic paints and markers, are all perfect to use. My A To Z murals are produced on repositionable, reusable easy stick material.
My A To Z Mural is dedicated to charitable non-profit activities, in collaboration with the designated venue and its underserved community. For more information see our events page.
My A To Z Mural has partnered with A Free Bird, a 501(c)3 non-profit, introducing The Arts to pediatric cancer patients.